Chlorofluorocarbon (CFC) & Refrigerant Disposal
Refrigerant disposal requires careful compliance with U.S. Environmental Protection Agency (EPA) guidelines in order to minimize the risk of destroying the environment. When you need to safely dispose of mixed, used, or virgin refrigerants from your jobsite or workplace, you need a company that's approved to handle the disposal in a fully compliant and environmentally friendly manner. You need the team at USA Refrigerants.
USA Refrigerants is an EPA Compliant company with expertise in safe, eco-friendly CFC and refrigerant disposal. Our company has helped HVAC contractors, automotive parts companies, facilities managers and wholesalers safely remove and dispose of refrigerants for more than 30 years.
Why Participate in Refrigerant Recovery?
Our refrigerant recovery program provides some of the highest incentives for refrigerant reclamation to do everything we can to prevent harmful chemicals and CFCs from further destroying the environment.
Don't waste time trying to figure out the best practices for safe CFC and refrigerant disposal. Instead, trust our team to handle everything, from collection through disposal. When you partner with us for refrigerant disposal services, we'll pay you for your used refrigerant and dispose of it safely for your convenience.
Our EPA Compliant Refrigerant Recovery and Disposal Services: The Benefits
USA Refrigerants is EPA Compliant, meaning all of our refrigerant recovery and CFC disposal practices are environmentally safe and fully compliant with U.S. regulations. We help you through every step of refrigerant recovery for streamlined, efficient processes and safe disposal. Here's how it works:
We send cylinders to you: Once you've decided to participate in our program, we'll send you cylinders or drums for your used refrigerant recovery. We'll even pay for shipping and handling!
We schedule pick up: When your tanks have been filled, call us up to schedule your refrigerant pick up. We'll come to your jobsite or workplace to collect the used refrigerant and ship a new, empty cylinder to your facility at no charge.
We send refrigerants for independent analysis: After we've received your refrigerant, we'll send it out for independent weighing, testing, and processing to ensure EPA compliance.
You get paid: Once the independent review is complete, we'll send you the Reclaim Report for your EPA files, along with a check for participating in our BuyBack program. Your refrigerant is safely disposed of, and you get paid for doing your part—that's a win-win for everyone!
When your commercial facility needs help safely disposing of refrigerant gases, there's no better team available to assist you than USA Refrigerants. Our refrigerant recovery company specializes in eco-friendly CFC disposal that adheres to EPA guidelines.
Safe Refrigerant Disposal Is Easier Than Ever With USA Refrigerants
Refrigerant disposal at the commercial level means responsible processing and handling for minimal environmental impact. USA Refrigerants has provided HVAC facility managers and automotive parts companies with EPA Compliant refrigerant recovery and CFC disposal services for more than 30 years.
When you need mixed, used, or virgin refrigerant safely removed from your commercial facility and destroyed in compliance with EPA regulations, don't hesitate to contact USA Refrigerants.
For reliable, efficient, and fully compliant refrigerant disposal services, simply call (888) 468-5250, (800) 898-4872 or contact us online.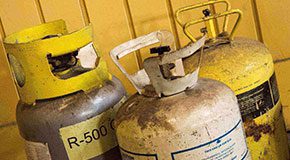 Certified for CFC Handling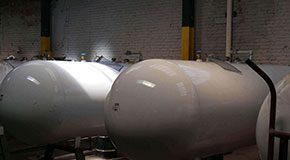 Prompt Payments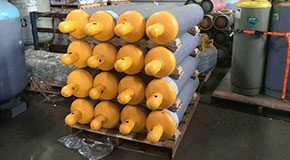 We Pay Shipping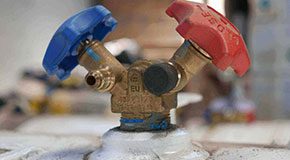 We Follow EPA Guidelines