Refrigerant Sales, BuyBack & Disposal Services in Philadelphia
If you're an HVAC contractor or automotive parts professional in Philadelphia and you're looking for top-quality refrigerant and services, USA Refrigerants has you covered. We are proud to offer high-quality refrigerant, as well as an industry-leading refrigerant BuyBack program and convenient, fully EPA Compliant refrigerant disposal services.
For more than 30 years, USA Refrigerants has been a leader in the refrigerant industry in Philadelphia, providing the services and solutions our clients need to run their businesses. Whether you need to buy new refrigerant or get rid of old ones, we're the partners you can trust for all of your refrigerant needs in Philadelphia.
Find out more about our refrigerant and services in Philadelphia. Call (888) 468-5250, (800) 898-4872 or contact USA Refrigerants online today.
Refrigerant Sales & Distribution Services in Philadelphia
When you need top-quality refrigerant in Philadelphia, there's no better place to turn than USA Refrigerants. We specialize in distributing the best refrigerants available, including:
Chlorotrifluoromethane
Trichlorofluoromethane
Trifluoromethane
Dichlorodifluoromethane
Hexafluoroethane
Our clients range from HVAC contractors and distributors to automotive parts wholesalers and others, all of whom benefit from our EPA Compliant products and practices for safer, more reliable refrigerants for their customers.
To find out more about our refrigerants for sale, check out our product offerings here. Whenever you need more information or you're ready to place an order, contact us online or call (888) 468-5250, (800) 898-4872.
Our Refrigerant BuyBack Program in Philadelphia
Our refrigerant BuyBack program in Philadelphiaoffers great incentives for those seeking to safely dispose of refrigerant chemicals and used products. We provide you with everything you need in order to safely remove refrigerants. Here's how our BuyBack program works:
We'll send you a recovery cylinder: When you're ready to remove your old refrigerant, simply contact us for a recovery cylinder. We'll pay shipping and handling to send you the cylinder. When you receive it, you will place your old refrigerant inside, and when you're done filling the cylinder, we'll come pick it up whenever it's most convenient for you. Then, we'll ship you a new, empty cylinder.
We'll send the refrigerant out for analysis and processing: Once we've received your old refrigerant, we'll make sure it's weighed, tested, and processed according to EPA regulations. We handle all of the paperwork and processing for you, so you can focus on serving your customers.
You get rewarded: Thirty days after we receive your refrigerant cylinder, we'll send you an EPA Reclaim Report, along with payment for your participation in our BuyBack program.
With our BuyBack program, you won't have to worry about navigating strict environmental guidelines for the safe removal of refrigerant from your facility. Trust our experts in Philadelphia to buy back your refrigerant for weighing, testing, and processing so that you can get back to business as usual.
Have questions about our refrigerant BuyBack program? Ready to get started?
Call (888) 468-5250, (800) 898-4872 or contact our experts online today.
EPA Compliant Refrigerant disposal Services in Philadelphia
At USA Refrigerants, we don't just buy back refrigerants. We also safely destroy them. In fact, as an EPA Compliant company, we are fully equipped to handle the proper disposal of various types of refrigerant gases.
We are also one of the largest and most qualified facilities in Philadelphia for managing CFC disposal, and we're capable of working with used, mixed, or virgin refrigerants. Gases most suitable for CFC disposal at our facility include the following:
We fully document every step of the CFC disposal process, from generation to disposal, in order to comply with all EPA requirements. So, whenever you need to safely, efficiently, and conveniently dispose of your refrigerant in Philadelphia, you can turn to the experts at USA Refrigerants.
Contact us online or call (888) 468-5250, (800) 898-4872 to find out more about our refrigerant recovery and CFC disposal services in Philadelphia.
USA Refrigerants Is Ready to Handle All of Your Refrigerant Needs: Contact Us
Whether you're looking for a refrigerant distributor or your need experts to safely remove and dispose of unwanted refrigerants at your Philadelphia facility, our knowledgeable team is fully capable of handling all of your refrigerant needs.
To find out more about our refrigerant, our BuyBack program, or our refrigerant recovery and disposal services in Philadelphia, call (888) 468-5250, (800) 898-4872. Or simply contact us online today.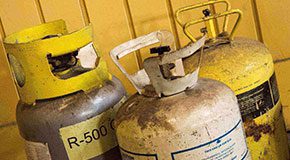 Certified for CFC Handling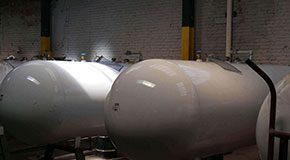 Prompt Payments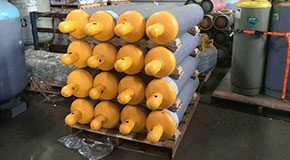 We Pay Shipping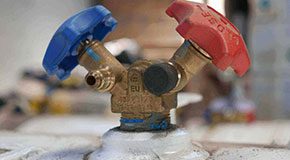 We Follow EPA Guidelines